| | |
| --- | --- |
| This article is written from an out of universe real word perspective. | |
Xiaolin Showdown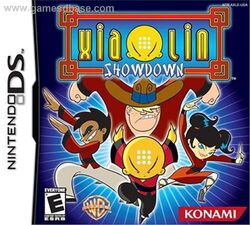 Manufacturer's suggested retail price
$29.99 USD

Gallery
Based on the Warner Bros. Animation kids' television series, Xiaolin Showdown sends players on an action-packed quest to seek out and protect the Shen Gong Wu, magical artifacts of supernatural power. Players will be able to take on the role of four young warriors: the well-rounded Omi, feisty Kimiko, boisterous Clay and the agile Raimundo. Each character has their own unique set of moves and special abilities, including skills from the television series such as the Seismic Kick, Judallet Flip and Typhoon Boom. Players can switch freely between the four characters at dojo drop-off areas through the game's 20 action-packed stages, selecting the best character for each new encounter. As they complete portions of the single player story mode, players will unlock special mini-games such as fire bowling and wind hockey, which take advantage of the unique features of the Nintendo DS with support for touch screen and microphone input. These mini-games can be enjoyed alone or with a friend via local wireless multiplayer support.
Specifications
Supported Functions

Number Of Players: 1-2

Local - VS # of Players

Multi-cartridge Multiplayer

Single-Cartridge Multiplayer
Features
Find and collect Shen Wong Gu while progressing thru an environment filled with hazards, enemies, and collectables
Compete in "Showdowns" that transport your warriors and test your martial arts skills
Crush evil with devastating combos and Chi attacks
Kick butt with 20 powerful Shen Gong Wu
Addictive single card DS download multiplayer bonus games
See Also
Ad blocker interference detected!
Wikia is a free-to-use site that makes money from advertising. We have a modified experience for viewers using ad blockers

Wikia is not accessible if you've made further modifications. Remove the custom ad blocker rule(s) and the page will load as expected.