SAVE ME!!!
This article is in need of dire help. You can correct this by helping it.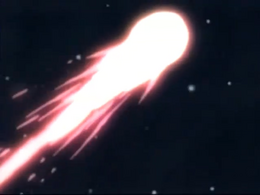 The
Heylin Comet
was a rare and evil comet that lasted three days.
Ability
Endangers anyone who used Shen Gong Wu during its passing, giving "evil" consequences. It was shown by Raimundo Pedrosa that when Wu is used during the comet, the Wu got "a mind of their own".
History
In The Last Temptation of Raimundo, the comet passes, affecting the Sword of the Storm and Golden Tiger Claws. Raimundo's hometown is in danger when a volcano erupts so he is tempted (hence the episode's title) to use Shen Gong Wu to save them. He returns when the comet affects the his Wu, them moving him uncontrollably, receiving their own mind.
Did You Know...?
Ad blocker interference detected!
Wikia is a free-to-use site that makes money from advertising. We have a modified experience for viewers using ad blockers

Wikia is not accessible if you've made further modifications. Remove the custom ad blocker rule(s) and the page will load as expected.