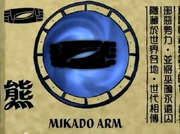 The Ancient Scroll of the Shen Gong Wu is an ancient artifact belonging to the Xiaolin Monks in Xiaolin Showdown and it's sequel Xiaolin Chronicles.
Abilities
The Ancient Scroll is the Xiaolin Monks' main source of information regarding Shen Gong Wu. Whenever a Shen Gong Wu reveals itself, the scroll will reveal that Shen Gong Wu, what ability it possesses and a little cartoon figure that performs the action. It also contains other information such as the Shen Yi Bu Dare and how to combine Shen Gong Wu.
Episodes
Trivia
It is believed that Grand Master Dashi created the scroll after he hid all the Shen Gong Wu so that when it came time to collect them again, the ones collecting them would have all the knowledge they needed.
Ad blocker interference detected!
Wikia is a free-to-use site that makes money from advertising. We have a modified experience for viewers using ad blockers

Wikia is not accessible if you've made further modifications. Remove the custom ad blocker rule(s) and the page will load as expected.